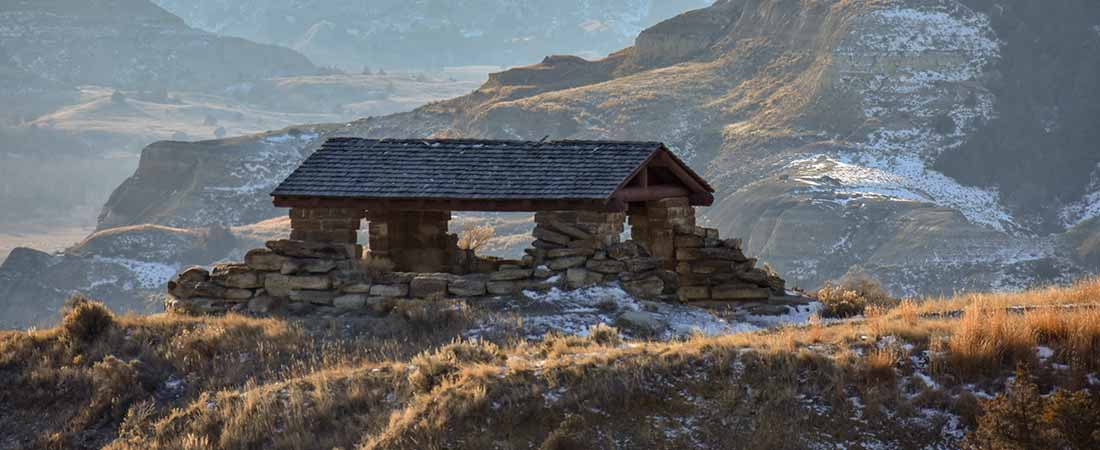 Reverbend Overlook in the Winter in Theodore Roosevelt National Park - By Fred Walker
The Bowman region has many opportunities for recreational activity, National Parks, historical sites and more. You can get out for some local hunting or if you perfer, bring your shovel to on-going digs. You can hike, bike or horseback ride some amazing trails!
For more information visit the Bowman, North Dakota website.
There are four National Parks in North Dakota
Fort Union Trading Post National Historic Site 15550 Highway 1804 Williston, ND 58801
Located about 2 miles from the Missouri River's confluence, Fort Union Trading Post National Historic Site used to be the most important fur trading post in the region. Trade exchanges of buffalo robes, guns, beads and blankets covered up to $100,000 annually. This historic site preserves portions of the original Fort based on ancient drawings and excavations.
Knife River Indian Villages National Historic Site 564 County Road 37
Stanton, ND 58571 Knife River Indian Villages was originally a major trade center for Native Americans; in 1750, this location became a vital marketplace used by fur traders. Established in 1974 by the United States Congress, the national monument in the Great Plains stands to preserve and interpret the rich history and culture of the ancient Knife River. Knife River Indian Villages National Historic Site is open year-round but hours vary by season
Lewis & Clark National Historic Trail 4904 119th Road NW Epping, North Dakota
Many people know the basics of the Lewis & Clark Expedition. It took place from 1803 to 1806, which explored historical, natural, and cultural resources in the U.S. The trail they took – now a national historic trail – is about 8,000 miles long. It runs through Missouri, Kansas, Nebraska, Iowa, South Dakota, North Dakota, Montana, Idaho, Washington, and Oregon. In North Dakota, the trail follows the path of the Missouri River north before turning west. It would take quite a while to traverse the entire path, but there are visitor centers and points of interest along the way.
Theodore Roosevelt National Park 315 2nd Ave, Medora, ND
North Dakota's only national park, Theodore Roosevelt National Park is named after the president who visited this part of the Dakota Territory in 1883. His experiences here, living on the frontier, helped inspire his personal passion for environmental preservation and the eventual National Par Service created by his successor, President Woodrow Wilson. Theodore Roosevelt National Park is home to rugged scenery – rolling grasslands, hills, and rock formations, cut through by the Little Missouri River.One of the most popular things to do is drive one of the two scenic park roads (there's one in each part of the park, north and south), but you can certainly strike out one of the park's 19 designated trails. Don't forget to keep an eye out for wildlife, especially the bison that drew young Teddy to this region almost 150 years ago.
Entertainment
The Bowman Lodge & Convention Center has a sim space with 80 PGA courses, target practice, all your favorite sports and more. It can be rented by the hour for groups and parties.
There is so much to do in Bowman, North Dakota.
Dining Options
Bowman has several dining options available to you.
---